Purchase a signed copy of
Ski Tours in Southern California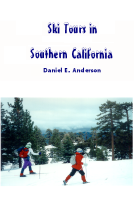 Ski Tours in Southern California by Daniel E. Anderson.
Second Printing (2002) with updates, corrections, and improved maps.
Ordering by Credit Card
For quick, easy service, pay by credit card with PayPal. To order by Credit Card (MasterCard, Visa, Discover, AmEx) click on the PayPal button. When paying, be sure to let us know about how you'd like it signed by filling out the "Special Instructions" on the payment form.
[How PayPal works and why it is safe]
Ordering by Check or Money Order
To order a signed copy of Ski Tours in Southern California directly from the author, please send a check or money order for $17.95 for each copy. No sales tax. Add $2.00 per order for shipping and handling to North American destinations (Please enquire for shipping to other countries).
Please send us your payment via U.S. Postal mail. payable to Dan Anderson. We take personal checks, money orders, or cashier's checks. Be sure to enclose your address, and instructions for how you would like the book signed.
Mail remittance to: Dan Anderson, 4900 Upper Dr., Lake Grove, OR 97035-4345. We ship all orders within one business day. Thanks!
Refund Policy: Return your copy in new condition within 10 days of receiving it, along with the reason for returning it, and I will refund the purchase price.
Privacy Policy: Your name and address will be kept private and will not be given out or sold to anyone else.
---
Skier's Caution!
Skiing can be dangerous! These books aren't a substitute for your own common sense. Don't use these books unless you are willing to take personal responsibility for your own safety. When skiing, be aware of hazards from inclement weather, ice, and hidden obstacles (such as holes, trees, streams, and rocks). Prepare yourself--bring proper gear, be fit, and obtain sufficient training and experience appropriate for the ski tour. Take part in a regular conditioning program and professional ski instruction--this will increase your enjoyment of skiing. Nothing in these books grants the right to trespass over private land.
http://ski.drydog.com/signedcopy.html